Find out more at:
We have the backing of the millions of users who have used our products and our 50-plus years dedicated to oral care with market-leading products such as Lacer Toothpaste and GingiLacer. Our main objective has always been to help adults and children maintain good oral health, to prevent oral diseases and to help improve oral hygiene.
Our products, developed by Lacer's R&D&I Laboratory with its characteristic scientific rigour, are based on formulas with evidence-based efficacy, excellent tolerance, safety and optimal organoleptic qualities to offer health professionals and consumers high-quality products and ensure a high level of user acceptance.
Lacer's years of experience in oral health care, the clinically proven efficacy of our products and the millions of users who have used them represent our guarantee of quality. That's why we describe ourselves as oral health experts.
Discover our wide oral range
personal care and cosmetic products for oral use
LACER
Toothpaste, Toothgel and Mouthwash
Anti-caries action. Prevents plaque formation. Strengthens enamel and dentin. Ideal for daily oral hygiene routine.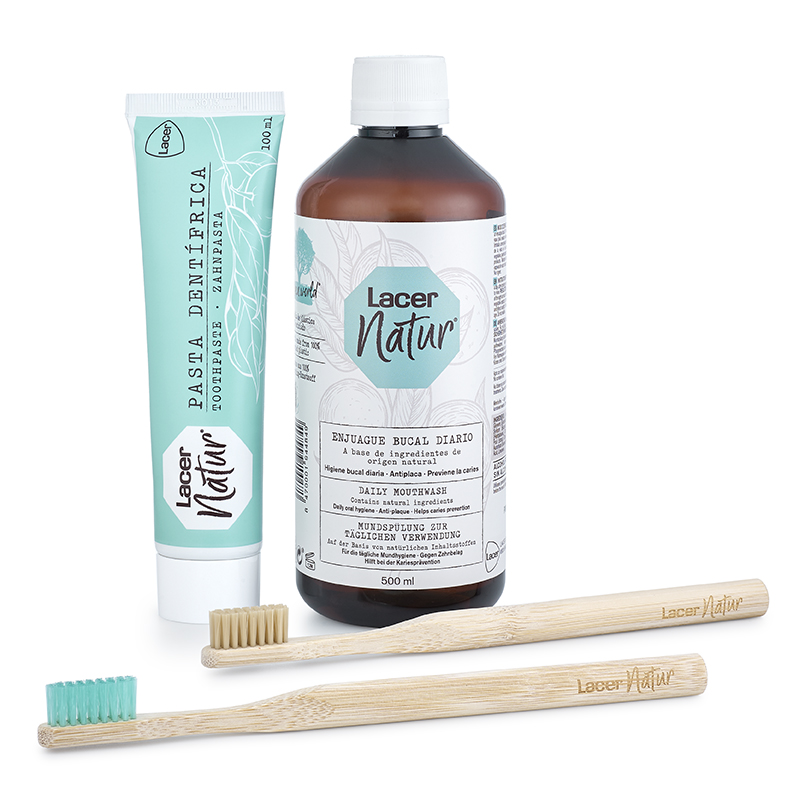 LACER NATUR
Daily oral care with eco-sustainable packaging. Toothpaste and mouthwash based on natural origin ingredients and toothbrush with bamboo handle and vegetable origin bristles.
Find out more at: www.lacernatur.es
Lacer natur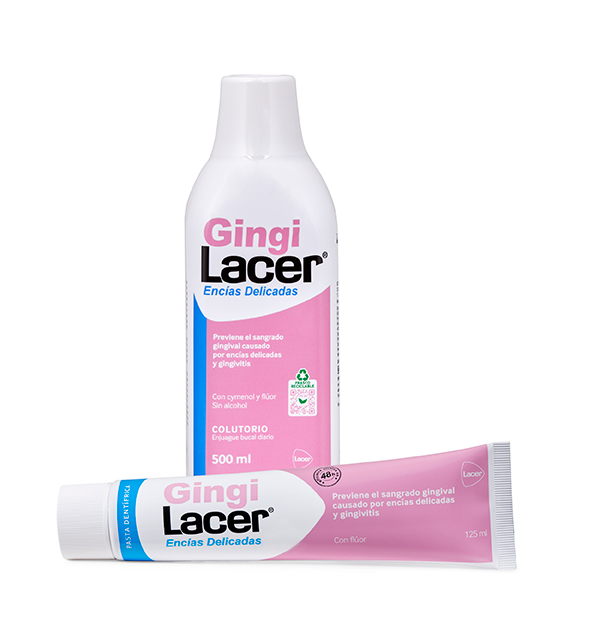 GINGILACER
Reduces gum bleeding caused by tooth brushing and plaque formation. Restores gum tissue.
Find out more at: www.sangradogingival.com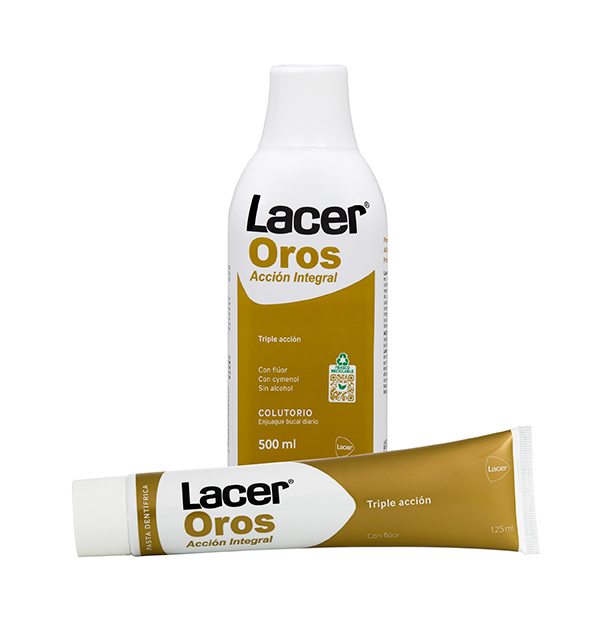 LACER OROS
Integral action: teeth and gums. Triple Action: prevention of gum bleeding, reduction of dental sensitivity and protection against caries.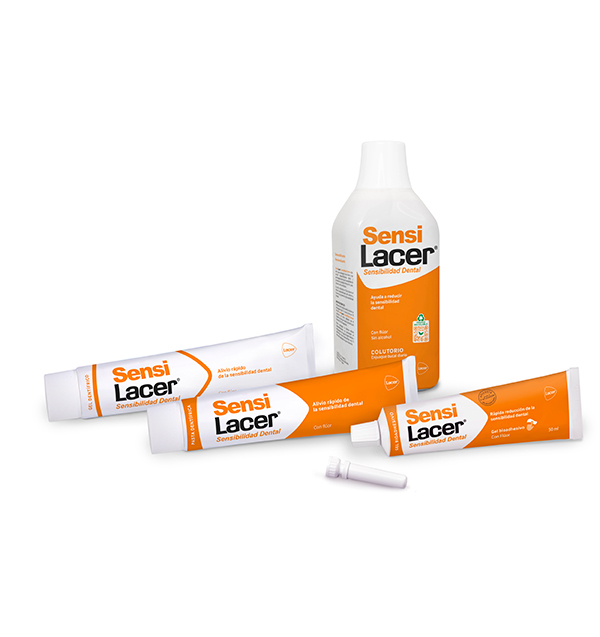 SENSILACER
Rapid, long-lasting desensitizing action. Prevents and improves the symptoms of tooth sensitivity.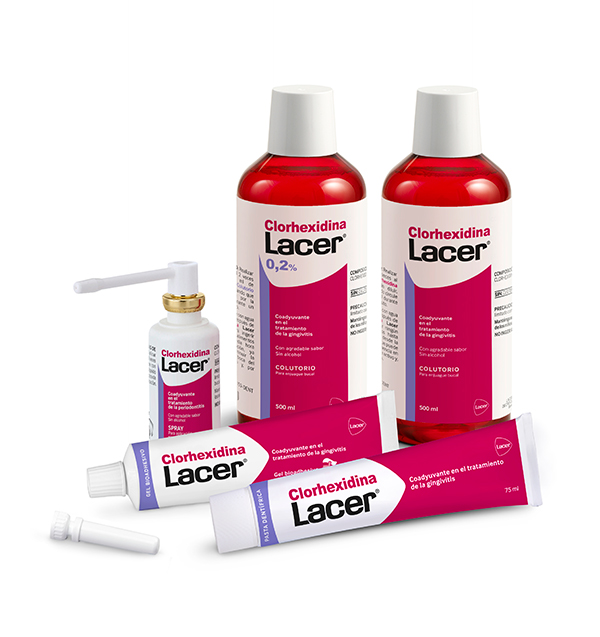 CLORHEXIDINA LACER
Adjuvant in the treatment of periodontal disease (Gingivitis and Periodontitis), with a pleasant taste.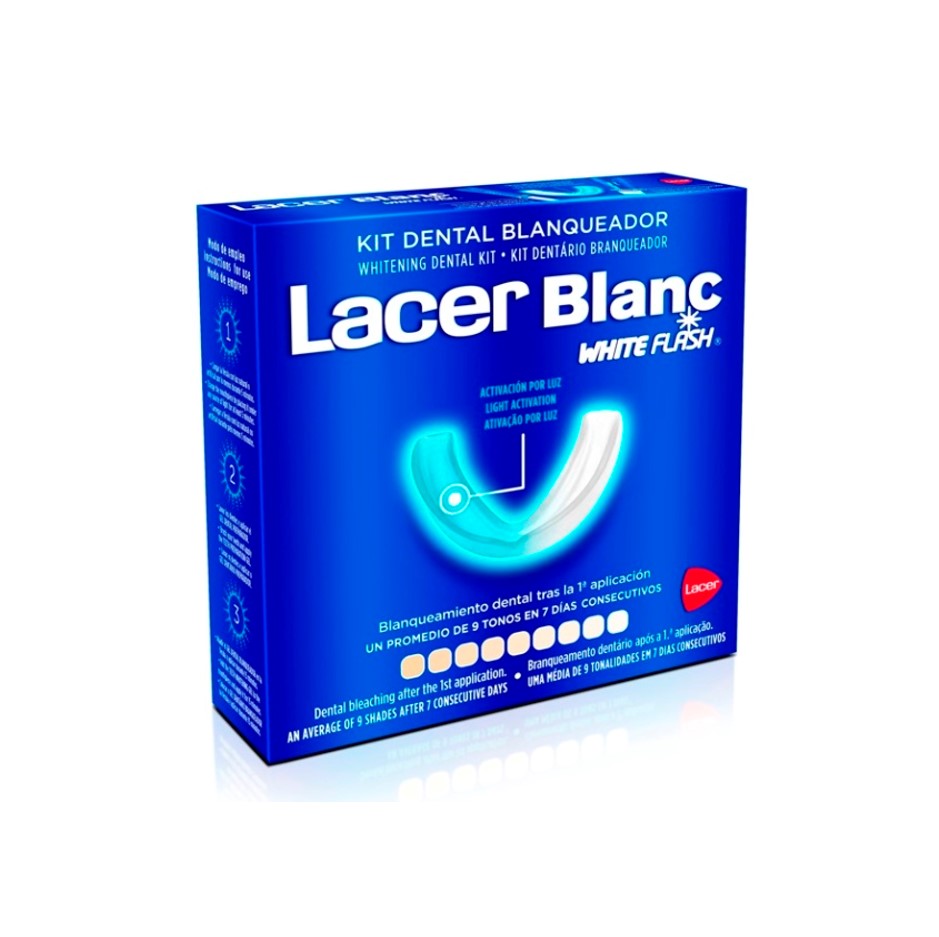 LACER BLANC WHITE FLASH
New easy-to-use dental whitening kit with immediate effect after the first application. An average of 9 tones whiter in 7 consecutive days. Clinically tested effectiveness.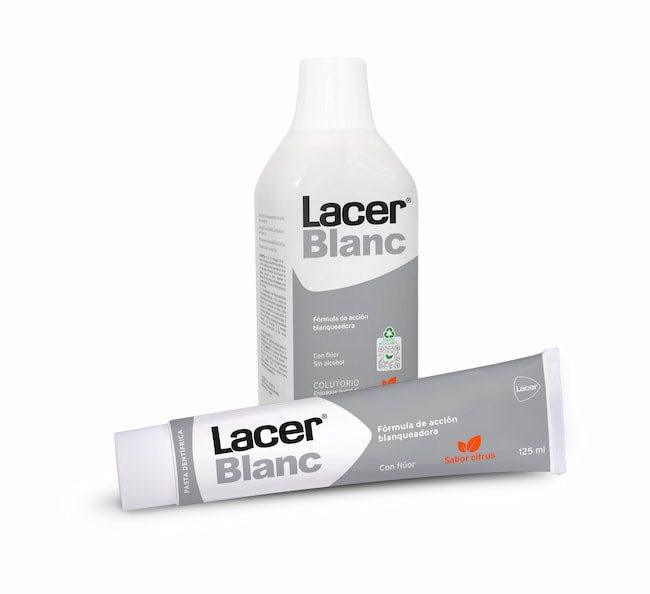 LACER BLANC
Tooth-whitening range for daily use. Removes dental stains and prevents bacterial plaque formation. Anti-tartar and protects against caries.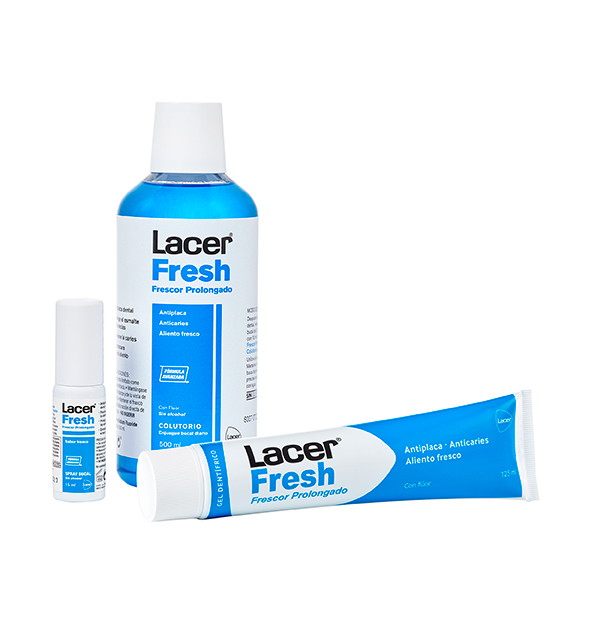 LACER FRESH
Long-lasting freshness in the mouth. Prevents caries, antiplaque, protects gums and masks bad breath.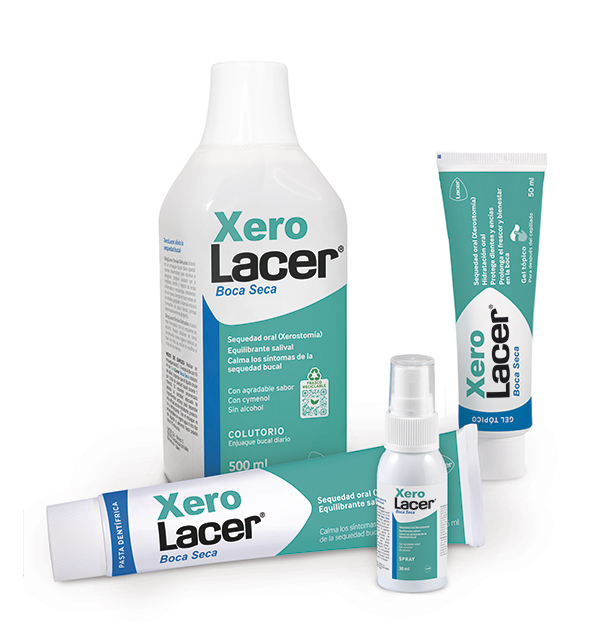 XEROLACER
Relieves the sensation of oral dryness. Prevents the onset of oral disorders caused by reduced saliva.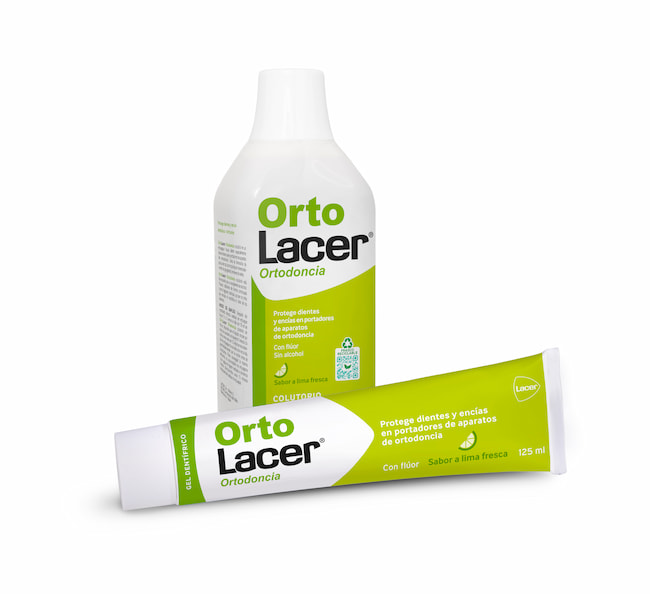 ORTOLACER
Gel and mouthwash for daily use. Protection for teeth and gums in wearers of orthodontic appliances.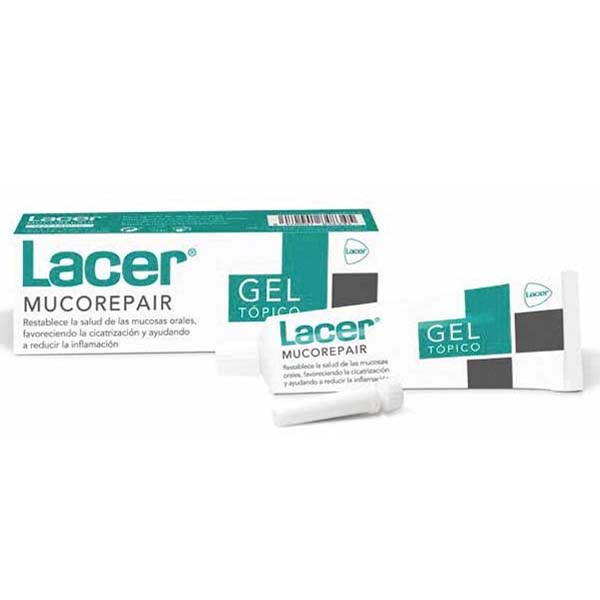 LACER MUCOREPAIR
Topical gel that restores oral mucosa health, promoting healing and helping to reduce inflammation. Accelerates the recovery of damaged oral mucosa after surgery or other causes such as chafing caused by orthodontic appliances or dental prostheses.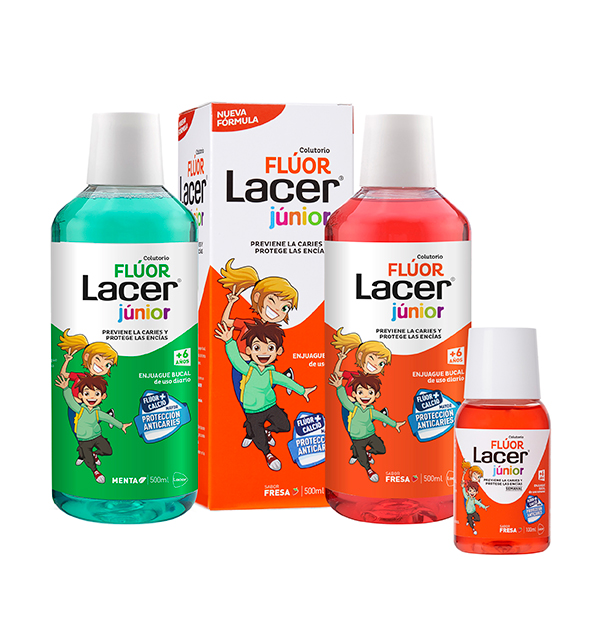 LACER FLUORIDE MOUTHWASH
Mouthwash for daily use and mouthwash for weekly use to prevent caries in children between the ages of 6 and 12. Strawberry or mint.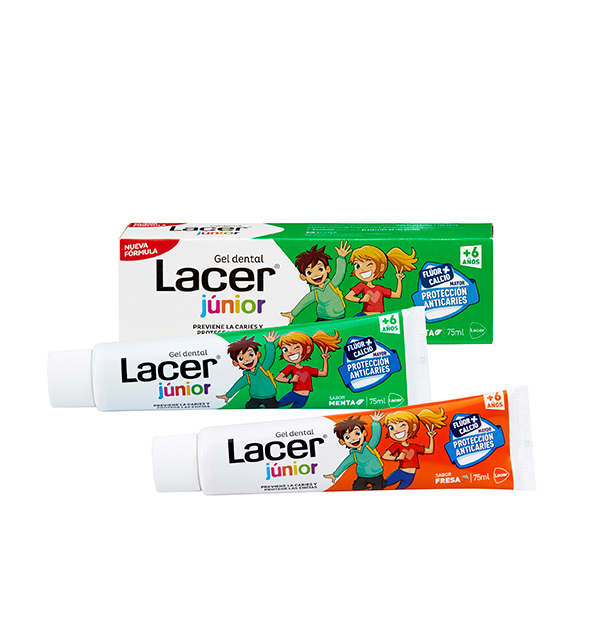 LACER JUNIOR TOOTHGEL
Prevents caries in children between the ages of 6 and 12. Strawberry or mint.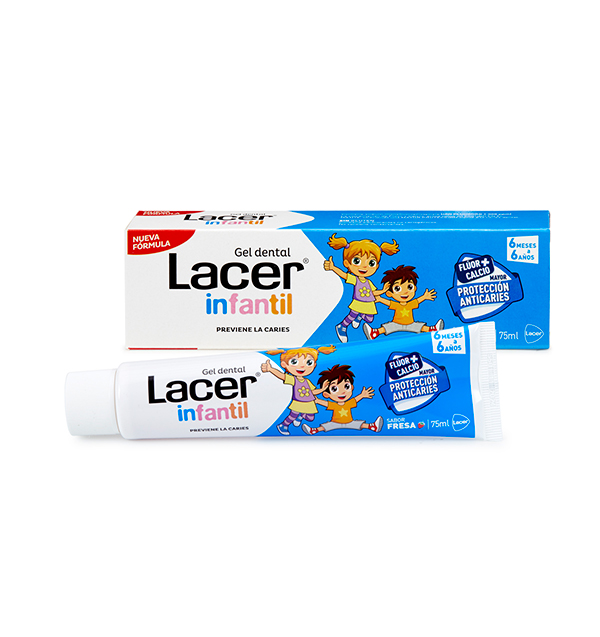 LACER JUNIOR TOOTHGEL
Oral health care for children between the ages of 2 and 6. Pleasant strawberry flavour.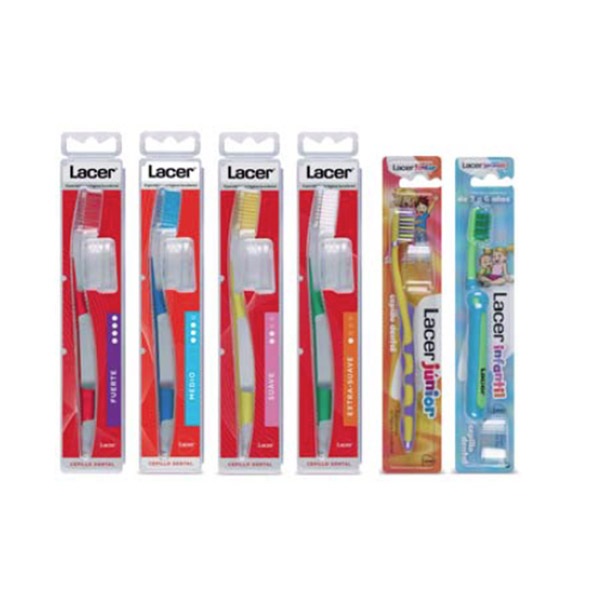 LACER TOOTHBRUSHES
"adults" and "children"
Brushes with bristles for a better plaque removal and a non-slip handle. For adults: medium, hard, soft and extra-soft. For children between the ages of 2 and 6: Lacer Children's. For children above the age of 6: Lacer Junior.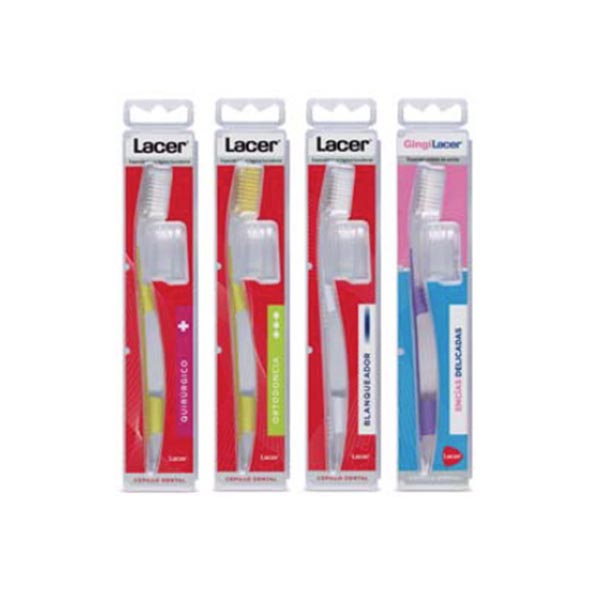 LACER TOOTHBRUSHES
"specific"
Brushes with different bristles depending on the specific need: GingiLacer to care for gums, Orthodontic for cleaning teeth and braces, LacerBlanc for extrinsic dental stains and Surgical for use after oral surgery.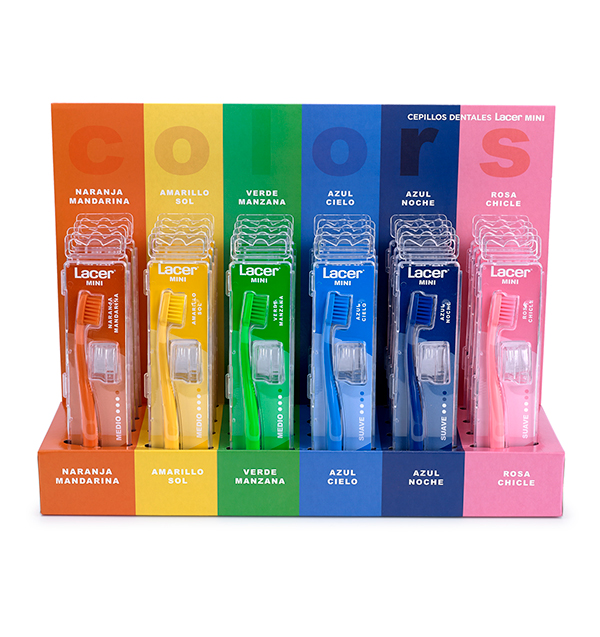 LACER MINI COLORS TOOTHBRUSHES
Small head makes it easier to clean hard-to-reach areas. Short handle that makes it convenient to carry around. Available in assorted colours and in medium and soft.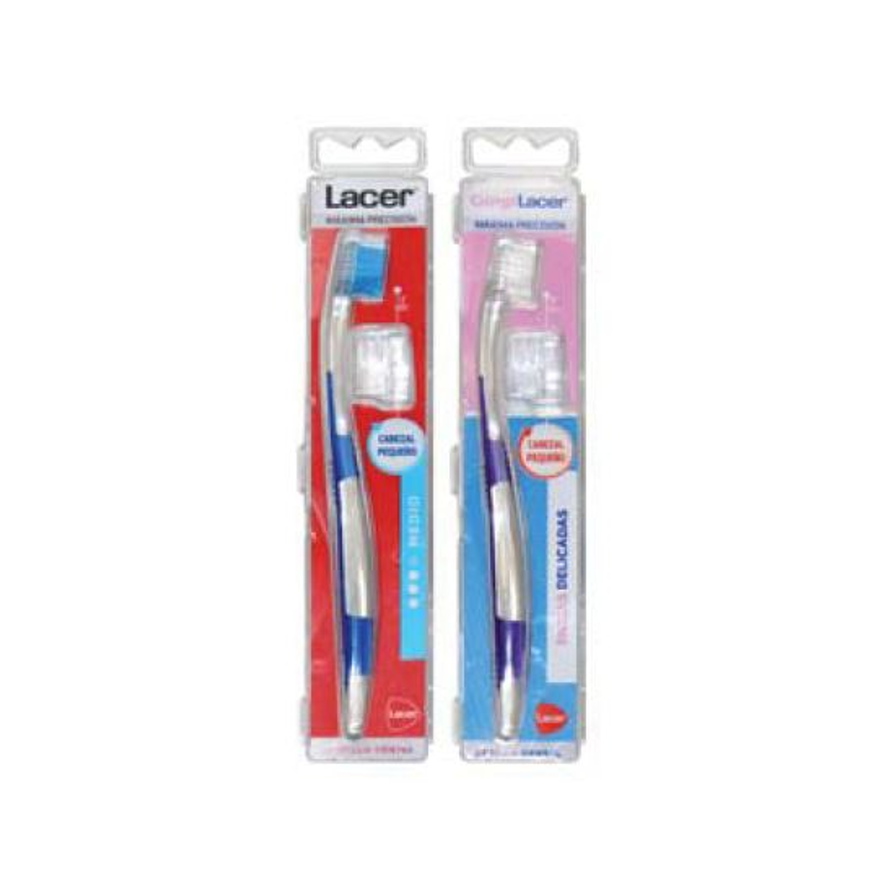 LACER TOOTHBRUSHES
"SMALL BRUSH HEAD"
Small, diamond-shaped brush head for comfortable and effective brushing, perfect for cleaning hard-to-reach areas. Rounded head to prevent chafing. Available in 2 models: Medium and GingiLacer.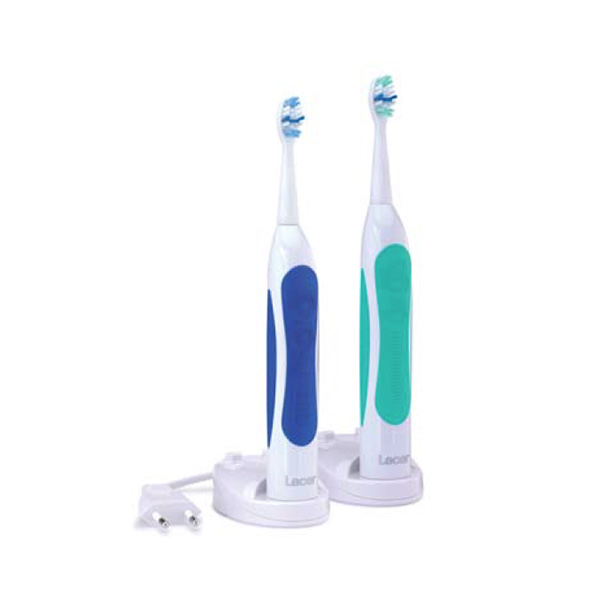 LACER EFFICARE ELECTRIC TOOTHBRUSH
High-speed hydrodynamic effect with 30,000 sonic movements per minute to help remove dental plaque and provide deep cleaning. Protects tooth enamel and gums.
Available models: Toothbrush for adults and Replacement heads of two types, Normal and special for Gum care.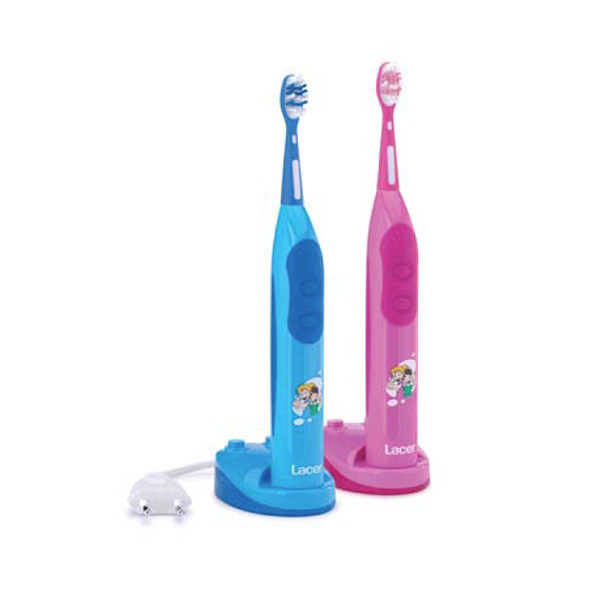 LACER JUNIOR ELECTRIC TOOTHBRUSH
Specially designed for children aged 6 and above. Its 20,000 movements per minute help remove dental plaque, prevent caries and protect tooth enamel and gums.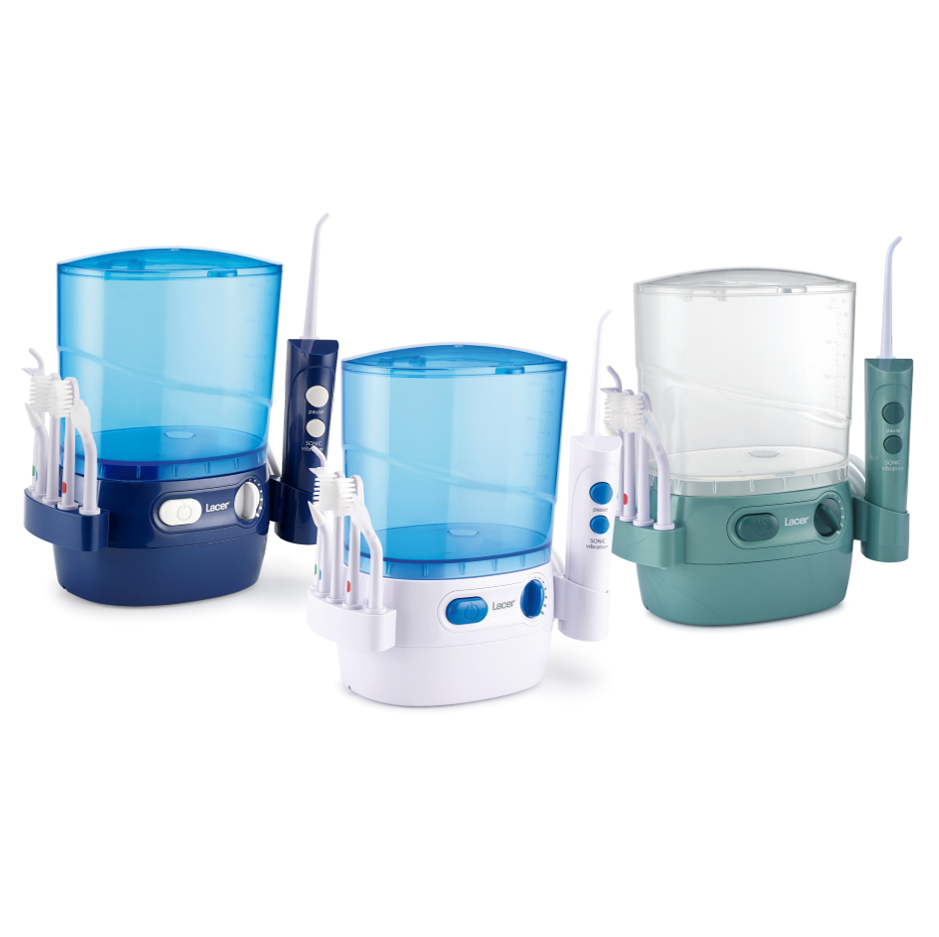 LACER HIDRO ORAL IRRIGATOR
Oral irrigator + electric toothbrush + gum massager. For all-round oral health care.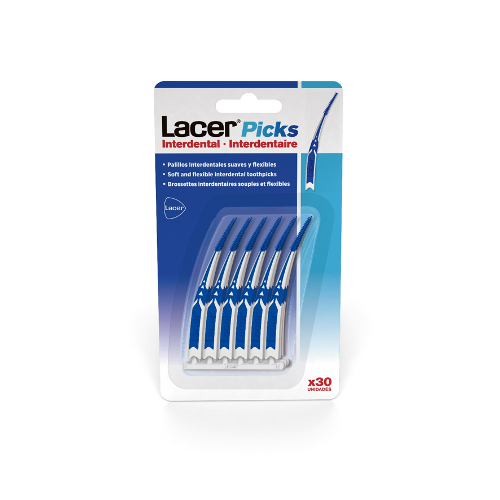 LACER PICKS
Single-use dental picks with rubber tips designed for interdental higiene.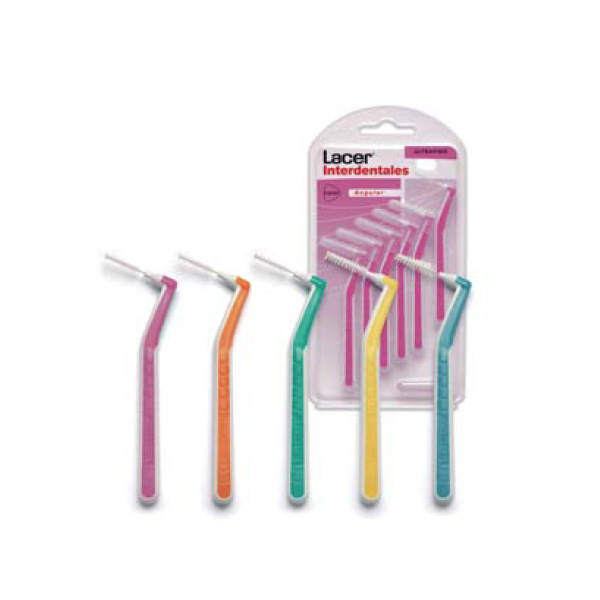 LACER INTERDENTAL BRUSHES (ANGLED)
Angled head to reach all parts of the mouth. The longer handle provides a comfortable grip to reach the furthest-away teeth.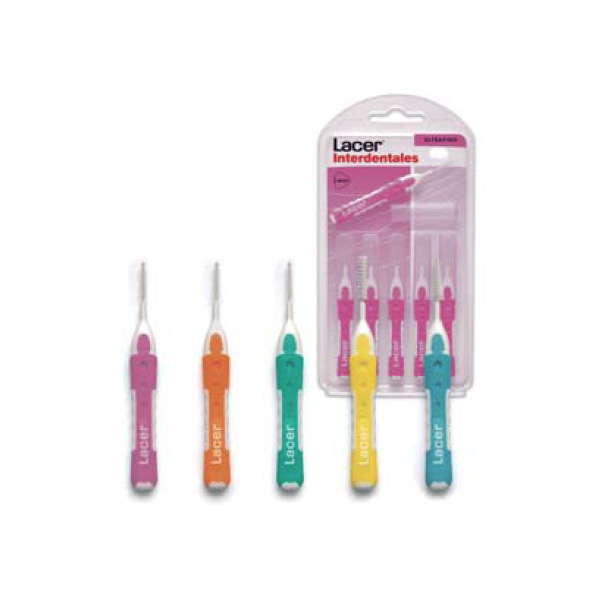 LACER INTERDENTAL BRUSHES (STRAIGHT)
Straight, non-slip handle made of two different materials. Easy grip to make guiding and handling the brush effortless.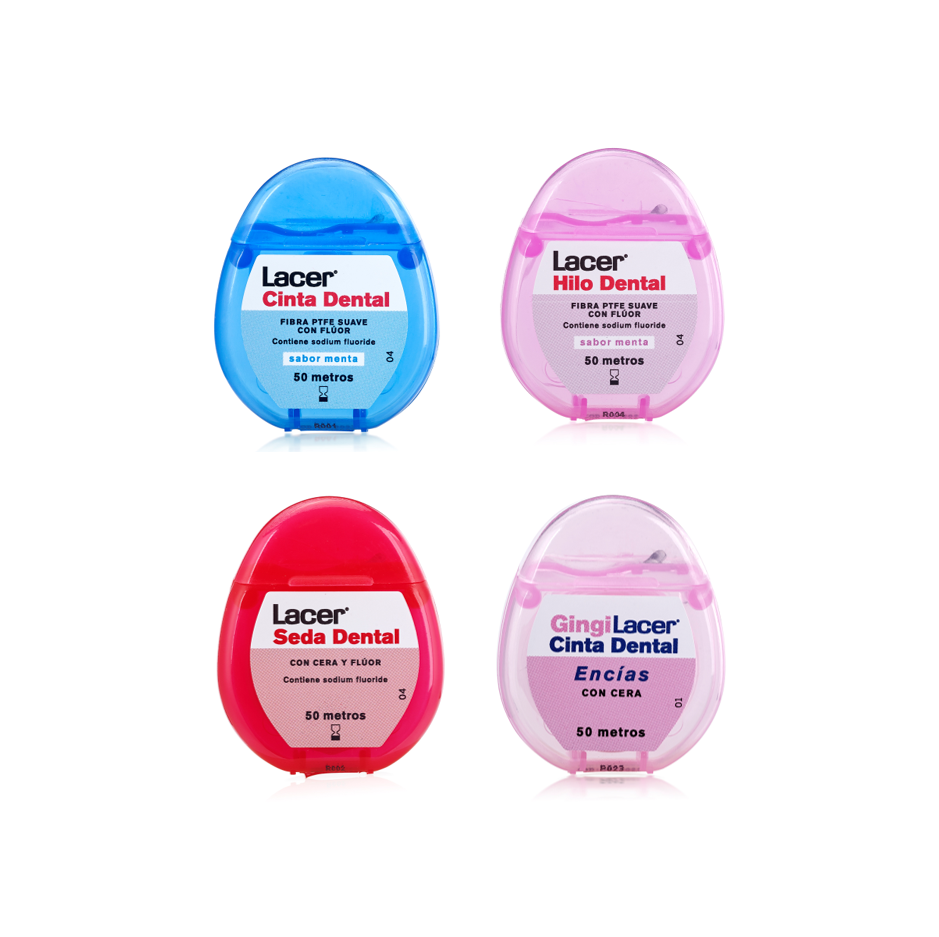 LACER SILK, DENTAL FLOSS and DENTAL TAPE
Extra-soft, fine, resistant and flexible, with great cleaning capacity. A model for all interdental spaces.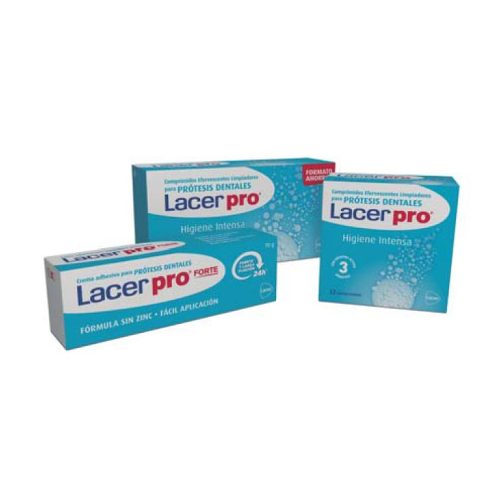 LACERPRO
For removable dental protheses.
LACERPRO FORTE ADHESIVE CREAM
Adhesive cream for a comfortable hold of up to 24 hours.
LACERPRO EFFERVESCENT CLEANING TABLETS
Tablets that generate active oxygen for intensive cleaning in a short time.
Comply with regulations on medical devices CPSP20094CAT.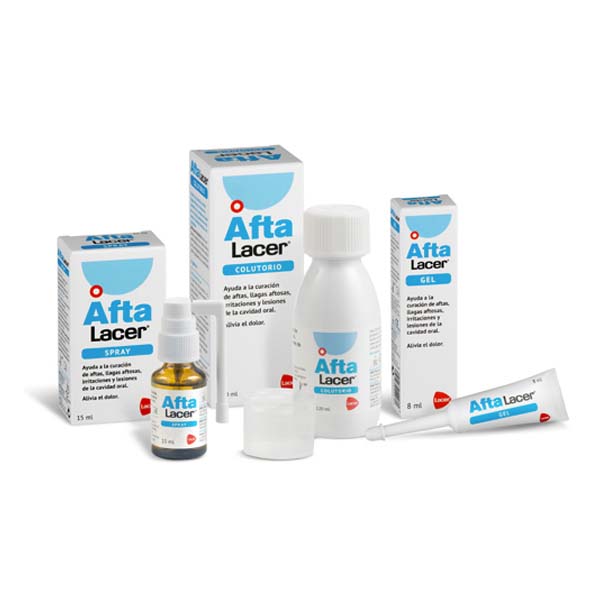 AFTA LACER
Relieves pain and helps healing of aphthae, aphthous ulcers, irritations and mouth lesions by creating a protective barrier that promotes healing. Available in Spray, Gel and Mouthwash.
Comply with regulations on medical devices CPSP20094CAT.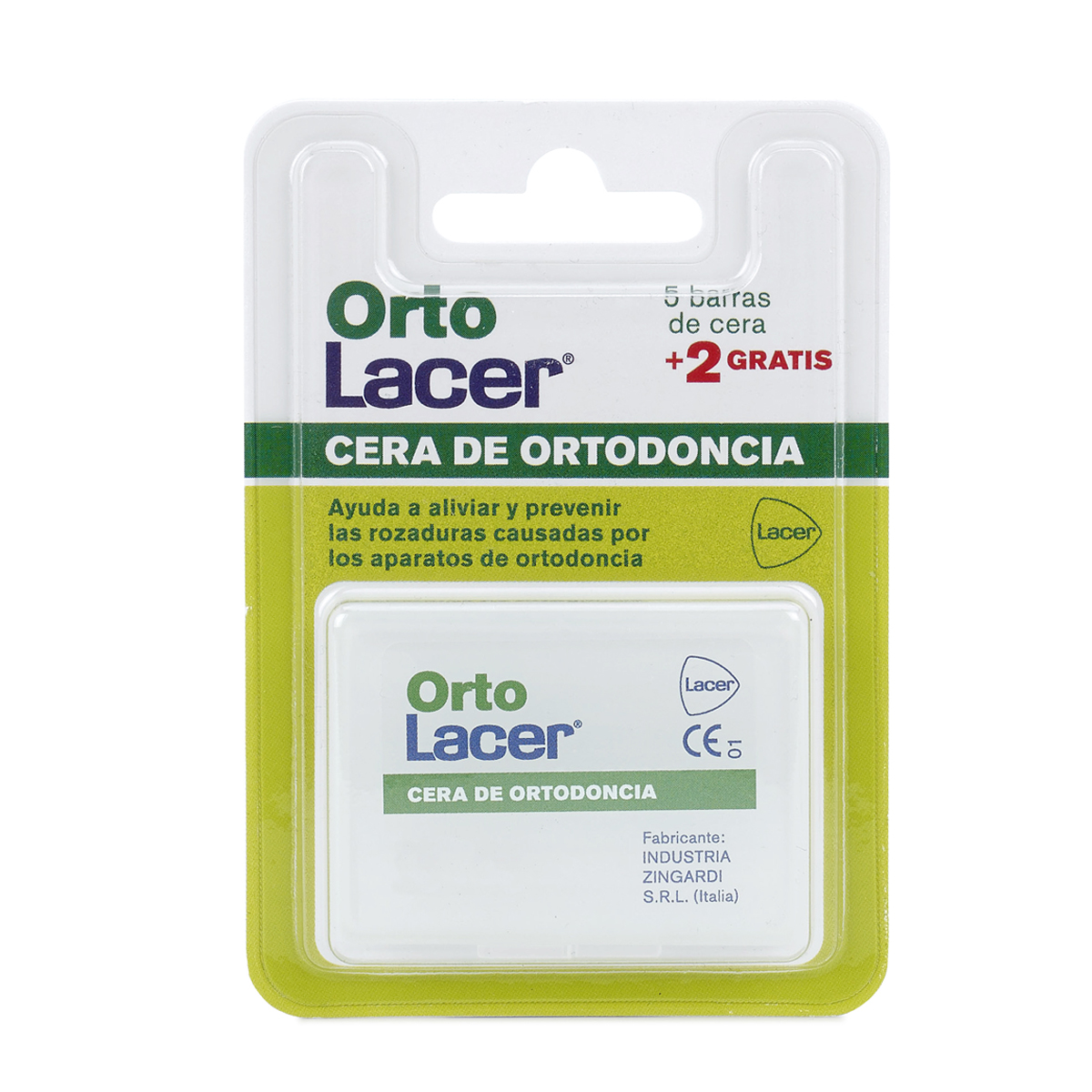 ORTOLACER ORTHODONTIC WAX
Helps to relieve and prevent chafing caused by orthodontic appliances.
Complies with regulations on medical devices CPSP20094CAT.
The descriptions of the products on this website correspond to those approved in Spain.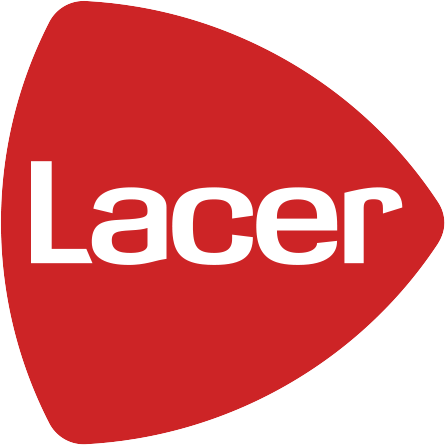 General Contact:
If you would like to contact us or make a request, please fill in the following form with your details. The people responsible for the corresponding areas will get in touch with you.
LACER, S.A.U. shall process my personal data in order to manage the application I am sending it using this form. The document Privacy Policy shows me how I may exercise my rights of access, correction, suppression, limitation, portability and opposition.